Author: Robert M. Grogans
Robert M. Grogans has had numerous articles published over many years covering such diverse subjects as nautical life, astronomy, transport, British railways and Scottish social, sporting and industrial history.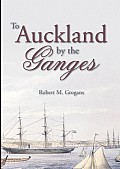 To Auckland by the Ganges
by
Robert M. Grogans
In 1863 there was only one method of travelling from Britain to the other side of the world by sailing ship, on a journey that could take up to four months, and when the vagaries of wind and weather could put travellers in peril during long voyages. The offer of grants of land in New Zealand was ... more...