Author: Ranjit S. Baxi
Ranjit Baxi has spent more than 30 years trading waste around the world, won the Queen's Award for Enterprise, is a highly regarded authority on the industry and Treasurer of the Bureau of International Recycling. He is an expert on the emerging Far Eastern markets which are the principal drivers of western economic recovery, a contributor to leading trade journals and speaks on recycling to international audiences.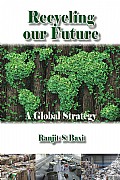 Recycling our Future
by
Ranjit S. Baxi
Every day, every one of us contributes to the waste problem but, despite being a part of our lives, waste is poorly understood, even by those who should know better. We live in a throw-away society and yet what is discarded is a vital raw material and ingredient being traded as a valuable commodi... more...