Author: Dr. Peter Dare

Peter Dare's lifetime experience of Buzzards includes PhD research and further studies undertaken, despite pursuing a career as a government shellfisheries biologist. He has had many papers published on Buzzards and other species in ornithological journals.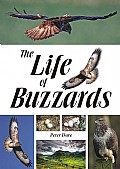 The Life of Buzzards
by
Dr. Peter Dare
This is a much-needed and authoritative account of Common Buzzards gained from extensive studies by the author over 60 years and also from enthusiasts in this country and across northern Europe.
The accounts describe the life history and ecology of Buzzards mainly inhabiting the British... more...