Not Really What You'd Call a War
£14.95
978-1870325-38-7
240 × 170mm
144 pages
liberally illustrated
Softback

Dedicated to the ship's company of La Moqueuse, this book is not so much an account of naval operations as a kind of social history. With the help of recollections, diaries and letters home, it recreates the reactions of an undergraduate to his various reincarnations as an ordinary seaman in a corvette, the most junior officer on board a destroyer and the British naval liaison officer in a Free French sloop.

Roughly half of the book deals with the very special atmosphere in the Free French forces and the complex situation in southern France immediately after its liberation in August, 1944. The volume as a whole provides a vivid impression - occasionally reminiscent of Catch 22 - of what it actually felt like to be involved in the day-to-day experience of helping to make a warship work.
'Once commissioned his war was spent ... as the British Liaison Officer in a Free French sloop ... it is the experiences within this ship ... that set this book apart from other accounts... The book makes for an entertaining read for all ...' RNSA Journal
Featured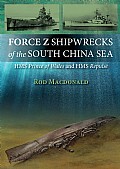 The tragedy of the loss in 1941 of two Royal Navy capital ships, HMS Prince of Wales and HMS R...