Author: John Wade
A former editor of Photography, the author then became a freelance writer, photographer and researcher. He has written and illustrated numerous articles on photographic and social history and is the author of more than 30 books.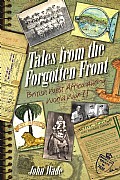 Tales from the Forgotten Front
by
John Wade
In November 1943, four years into World War II, Corporal Sid Wade, a conscripted and reluctant soldier in the British Army, was uprooted from a cold English winter and transported to the tropical coast of West Africa. Sid Wade was the author's father and, nearly 70 years after his two-year ... more...